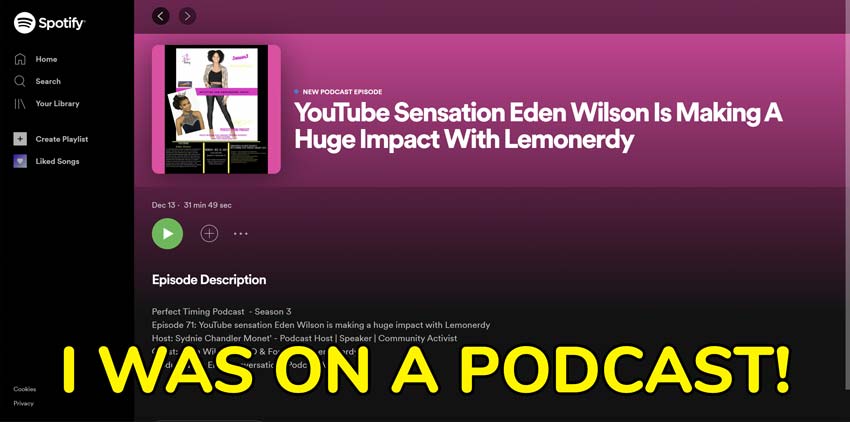 Talking about Black Girls Lead and More on the Perfect Timing Podcast
I've done a lot of interviews, but this was my first podcast! I was so excited to chat with Sydnie, the host of the Perfect Timing Podcast. We talked about Black Girls Lead, what it takes to be a YouTuber, and more. After we finished recording, the craziest thing happened… we discovered that when we were little, we were in the SAME ballet class in Washington, DC when we were little, AND we were both in the same production of Coppélia back in 2016. The world is so small.
This summer, we were both in the Black Girls Lead Class of 2021. To apply, I had to submit a video and answer questions on their website. Was I really happy to hear that I got in? Absolutely.
About Black Girls Lead: BLACK GIRLS LEAD (BGL) is a digital four-day leadership conference for young women of color ages 13-17. This year's program, powered by Microsoft, offers tools and resources to support girls in becoming dynamic leaders, creators, and innovators. The BLACK GIRLS LEAD Conference is designed to affirm Black girls' brilliance, cultivate their confidence, enhance their leadership skills, and allow fellowship and sisterhood to flourish in a safe girl-centered space. BLACK GIRLS ROCK!® joined forces with tech leader Microsoft to present the annual BLACK GIRLS LEAD™ conference, to educate and inspire the next generation of innovators. This year's conference is hosted virtually, from August 2-5, 2021. The four-day leadership intensive will include keynotes, workshops, panels, and masterclasses on STEM, arts, entrepreneurship, career development, financial literacy, creative writing, and social impact, led by prominent thought leaders.
To get updates and apply for Black Girls Lead 2022, click here or visit BlackGirlsRock.com. Applications open in July.
Listen to a clip of our conversation here – https://www.instagram.com/p/CXhYInyL6E-/
 

 

View this post on Instagram

 
You can listen to the entire podcast on Soundcloud, Spotify, iHeartRadio, and Apple Podcasts.
About Sydnie: Sydnie Chandler Monet is a teenager with a powerful voice, a positive message, and an open platform for the current generation of youth. Her passion is to give a voice to her generation, individuals that are excited about making an impact on the world and are not afraid to share their ideas, knowledge, and skills to make positive change. Sydnie will use her podcast platform as one of the vehicles to make that happen. Follow her on Instagram and Facebook.