It's my first developer conference! I was invited by Microsoft to attend Microsoft Build on May 23–25, 2023. I've only been to Seattle once, and I was around eight. I was on my way to watch my cousin play basketball at Washington State in Pullman, WA so it really was just a stopover. This time, I get to not only attend one of the biggest developer conferences but also experience a bit of Seattle!
About the Conference
Disclosure: My friends at Microsoft invited me to Microsoft Build and have compensated me. My opinions are my own.
Microsoft Build will be held virtually, but also IN-PERSON at the Seattle Convention Center.
For in-person attendees, the pre-day workshops are on May 22nd. The main event is from May 23rd through the 25th. For online attendees, the dates are May 23rd and 24th. To see the agenda and speakers, click here.
What to Expect at Microsoft Build 2023
Remember when I was on Scott Hanselman's podcast? Well, he is the Microsoft Build guru, and if you want to know what to expect at Microsoft Build, check out the video above!
I'm so excited about attending the sessions, meeting the other phenomenal content creators (I've already 👀 some of their social media pages), and learning to be a better developer. Want to know more about the agenda and speakers? Click here.
More to come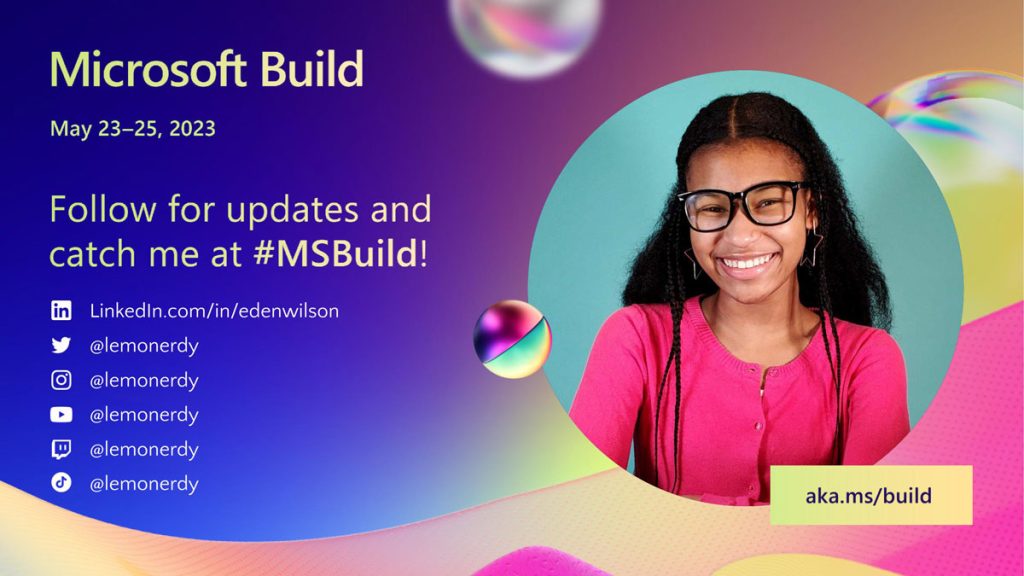 As the conference gets closer, I'll be sharing some great information, so make sure that you are subscribed to my YouTube channel, and following me on Instagram, TikTok, Twitter, and Facebook. I can't wait to share this experience with you! April 26th is VS Code Day 2023, and I'll be live on TikTok at 2:30 CT with Burke Holland talking about my journey in tech and my upcoming trip to Microsoft Build. You can check out the live on TikTok at @vscode.
Want to experience the Microsoft Build Conference for yourself? Click here to get more information and register.