PRESS RELEASE: Siblings From Rival Chicago High Schools Named Finalists in SXSW EDU Student Startup Competition
FOR IMMEDIATE RELEASE
Contact: Eva Wilson
Phone: 202-528-3942
Email: eva@lemonerdy.com
LinkedIn: linkedin.com/company/lemonerdy/
Instagram/Twitter/YouTube: @lemonerdy
Siblings From Rival Chicago High Schools Named Finalists in SXSW EDU Student Startup Competition
CHICAGO — January 16, 2023 – Sibling entrepreneurs Eden Wilson and David Wilson have been selected to pitch their business, Lemonerdy University, in front of a panel of judges at South by Southwest EDU (SXSW EDU) in Austin, Texas on March 8. The Student Startup Competition, powered by WIT, supports high school entrepreneurs by providing finalists with a platform to showcase their business ideas and receive expert feedback from coaches and judges.
"[The finalists] were selected from our largest application pool yet. This year's startups feature the most innovative ideas coming from all across the globe. SXSW EDU competitions have served as stepping stones for many top entrepreneurs." – SXSW EDU Official Announcement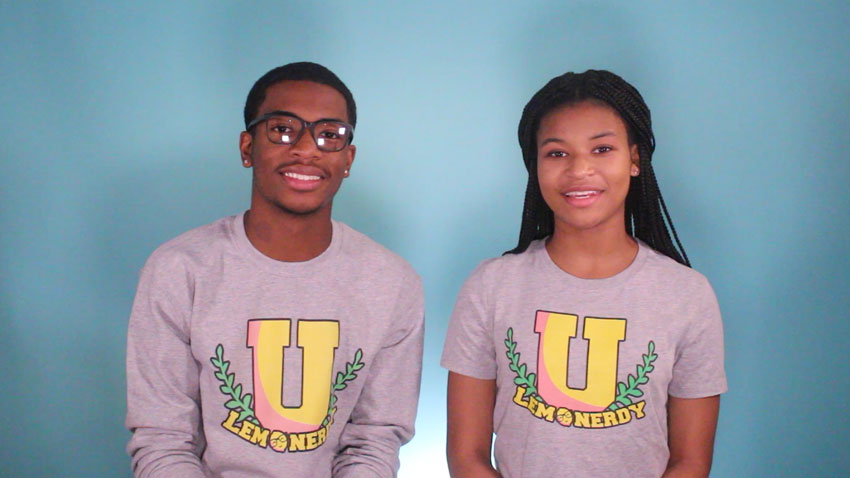 David Wilson and Eden Wilson
Eden (16) is a junior at Whitney Young Magnet High School, and David (17) is a senior at Kenwood Academy, a rival school, both in the Chicago Public School system. Eden is an award-winning tech ambassador, honor student, and a former contestant on Lifetime's Child Genius. David is a two-time founder, entrepreneur, and award-winning photographer whose artwork was selected for the 2023 All City Visual Arts Exhibition in Chicago. While these exceptional siblings sit on opposite sides of the gym during basketball games, they will team up to pitch to a panel of experts at SXSW EDU, "an annual event that fosters innovation and learning within the education industry."
David and Eden will pitch Lemonerdy University, a subscription based, peer-to-peer education platform for kids providing online STEM and entrepreneurship instruction through self-paced courses and peer-led cooperative learning experiences. Lemonerdy U is the only learning platform whose primary goals are modeling diversity, kids teaching kids, and paying fair wages. Their youth-led platform encourages students to be what they can see.
SXSW EDU is a component of the South by Southwest® (SXSW®) family of conferences and festivals. Internationally recognized as the convergence gathering for creative professionals, SXSW EDU extends SXSW's support for the art of engagement to include society's true rock stars, educators. The conference will be held March 6 to March 9, 2023.
Learn more at Lemonerdy.com/university.
###